CNC Jobs Are In Demand In Michigan
No Comments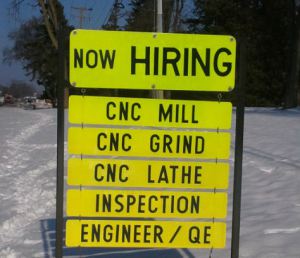 According to reports for 2013, CNC Machinists and operators are on the list of top ten jobs that are in demand for skilled trades workers in Michigan. This is reflective of a nationwide trend that reveals that manufacturers in the States desperately need many different types of skilled trades workers, including machinists.
A great many high schools have discontinued their shop classes — even as extracurricular options for their students — resulting in a dwindling stream of new trades workers in recent years. There was a drastic drop in manufacturing in 2008 as a result of the poor economy, but demand for skilled trades workers like CNC machining with experience in manufacturing is on the rise. After all, a thriving manufacturing industry is the engine that helps keep a healthy economy going, regardless of the country.
For those unfamiliar with advanced manufacturing techniques, CNC is the method of taking raw materials like steel, aluminum and brass and crafting them into a product like a screw, bolt or stud. The machine itself is controlled by a computer that has been programmed to craft items to match the exact specifications of each individual project and client. Most advanced manufacturing businesses utilize some kind of CNC machine system due to their versatility. However advanced and useful these machines might be, they're useless without someone who knows how to make the machine work.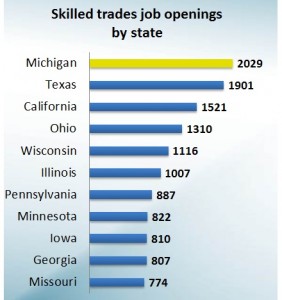 As with most professions, the more you know, the further you can progress in your field. For CNC operators and programmers, that translates into being life-long students. If an entry-level CNC operator is willing to devote the time and continue their education through on-the-job training, apprenticeship, or taking additional classes, they can make a decent living and never have trouble finding a CNC job. Technology is constantly evolving and improving, so CNC operators should be willing to learn as much about the new technology as they can.
Shops and businesses are always looking for experienced CNC operators and CNC jobs are often waiting for them when their training is complete. Every shop is different, and it's important to find the right company and the right CNC machinist to work with that company. It's also essential for students fresh out of machinist training to go to local manufacturing shops, to see first hand what CNC machining jobs are like and what they entail.
A student doing well in CNC manufacturing training will have all the essential skills that an employer is looking for in a CNC operator. The Michigan Works training program, for instance, provides students with a strong foundation in manual machining as well as important entry-level skills in CNC technology.
Why choose Diversified Industrial Staffing to help you find your next job?
Our unique approach is all about you. Rather than taking a job description and trying to fill it, we market you and your skills to the best employers. Regardless if you are a Machinist, CNC Machinist, CNC Programmer or other highly skilled industrial worker, Diversified Industrial Staffing can help match you to the right opportunity in the right location quicker and more accurately than anyone else!