The Future Looks Bright for Machinists
No Comments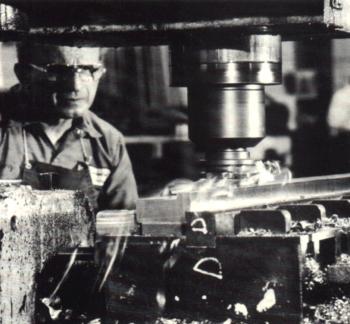 Machinists use machining tools that are manually controlled or use computer numerical controls (CNC). These tools can include lathes, grinders, and milling machines to produce high-precision metal parts. The parts can range from basic bolts made from steel or brass and titanium screws for orthopedic implants to hydraulics, automobile pistons, and even anti-lock brakes.
Job opportunities for machinist graduates are vast. It's an area of the industry that's in high demand and businesses are always searching for trades workers who are trained to use the technology but have roots in the basics of manual work and make safety a priority.
Machinists jobs include working from sketches, blueprints, or computer-aided design (CAD) or computer-aided manufacturing (CAM) files. They set up and tear down CNC machine tools; they also oversee installation and alignment as well as secure and adjust all cutting tools and work pieces. Their work also involves monitoring the feed and speed of the machines. As machinists, they're responsible for milling, drilling, shaping, and grinding machine parts to exact specifications. The machinist job also entails examining and testing finished pieces for defects and make certain that all products meet that particular job's specifications.
Because machining technology is in a constant state of flux, machinists must learn how to operate a wide array of machines and, as engineers create new machining tools, must familiarize themselves with new machining techniques and procedures.
There are many paths to becoming a skilled machinist, but as the trade itself evolves, so does the training needed. Courses result in several different levels of qualification, from a certification all the way up to an associate of applied sciences degree. The training can take anywhere from two semesters to two years to complete, depending on the time commitment and level of education the student desires. Once the formal training program is complete, a machinist still needs years of experience to be considered highly skilled at this particular trade.
Machinist jobs are experiencing a growth in demand, due to a lack of experienced trades workers. This particular field is expected to experience a growth of 7% from 2010 to 2020, although it is already considered a job that's high in demand in almost every state in the U.S. With proper training, entry-level machinists can expect to make anywhere from $10 to $12 an hour, while more experienced machinists can expect a salary of $22 an hour or more.
Why choose Diversified Industrial Staffing to help you find your next job?
Our unique approach is all about you. Rather than taking a job description and trying to fill it, we market you and your skills to the best employers. Regardless if you are a Machinist, CNC Machinist, CNC Programmer or other highly skilled industrial worker, Diversified Industrial Staffing can help match you to the right opportunity in the right location quicker and more accurately than anyone else!